Model Lineup
L/100 KM: 6.7 Hwy | 7.8 City

L/100 KM: 6.4 Hwy | 8.9 City

L/100 KM: 6.6 Hwy | 7.7 City

L/100 KM: 8.3 Hwy | 10.6 City

L/100 KM: 6.6 Hwy | 7.0 City

L/100 KM: 7.4 Hwy | 7.9 City

L/100 KM: 6.5 Hwy | 7.8 City

L/100 KM: 6.4 Hwy | 8.9 City

L/100 KM: 5.3 Hwy | 4.6 City

L/100 KM: 7.4 Hwy | 8.3 City

L/100 KM: 7.7 Hwy | 8.4 City

L/100 KM: 9.8 Hwy | 12.5 City

L/100 KM: 9.3 Hwy | 12.4 City

L/100 KM: 10.0 Hwy | 12.6 City

L/100 KM: 8.5 Hwy | 12.2 City
Welcome to Clarington Honda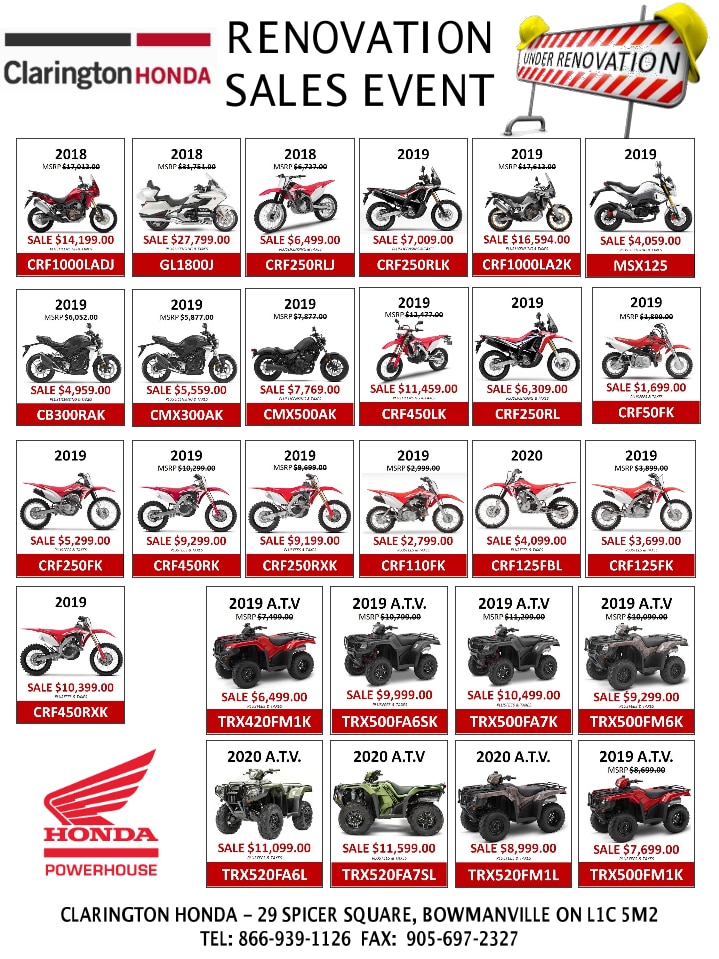 Located in Durham region, Clarington Honda is your destination to find your new Honda vehicle. We focus on providing a unique experience to each customer connecting with our Honda Bowmanville. At Clarington Honda, we understand that you have high expectations when it comes to finding the right vehicle. As a Honda dealership, we enjoy going above and beyond to ensure every customer gets an experience that leaves them fully satisfied. Our sales specialist are courteous, dynamic and eager to share their knowledge about Honda cars with you. Allow us to demonstrate our commitment to excellence!
We're a reference of choice in the Bowmanville, Clarington and Oshawa regions for new and used cars sales
Our mission is to assist you with every aspect of your vehicle. Yes, selling cars is a crucial part of our business, but more importantly, we focus our efforts on maintaining them as well.  Our Honda dealership offers after-sales service to increase the performance of your vehicle. A well-maintained Honda vehicle is known to last for many years.  
Our team of certified technicians will take great care of your vehicle during each service appointment. We pride ourselves by offering a comprehensive service in the Durham region. Our service department is open 6 days a week. Our fully-furnished body shop and professional staff will ensure that we are able to assist you with the maintenance, and the parts of your vehicle. 
We also have a financing department at our dealership. Whether you are on the market for a brand-new vehicle or considering financial options, our financing specialists will listen to your concerns and provide you with advice to facilitate your purchase process. 
Our Honda dealership is located at 29 Spicer Square in Bowmanville, Ontario
If you'd like to see a vehicle in person, we are located right next to the 401. Click on Directions for step-by-step driving instructions to our site. We are easily accessible and very close to the 401.  We are in the heart of the Durham region and provide outstanding customer satisfaction to the communities of Bowmanville, Clarington, Newcastle and Oshawa. Your Clarington Honda specialists will be happy to answer all your questions.
Start your search by browsing through our inventory to see all the Honda cars for sale. Then schedule a test drive with one of our representatives. Finally, if you found a vehicle you are interested in, we would be more than happy to help you figure out a financing solution that suits your needs. Can't find the vehicle you are looking for? Click on CarFinder and fill out the form! We will gladly inform you when a car matching your criteria arrives at our dealership. 
We look forward to serving you! You can request more information about a vehicle using our online form or by calling us at this number: 1-855-802-4532.